Oct 7, 2018; Philadelphia, PA, USA; Minnesota Vikings wide receiver Adam Thielen (19) celebrates his 3-yard touchdown catch with offensive tackle Brian O'Neill (75) against the Philadelphia Eagles during the second quarter at Lincoln Financial Field. Mandatory Credit: Eric Hartline-USA TODAY Sports
To have a Wes Welker, or a Marques Colston, or a Randall Cobb in their prime is to have a wide receiver you can count on from the inside; one who works the middle of the field with an unparalleled deftness; one who has the quickness to blow by a linebacker but also the tactics necessary to outwork a corner or safety. For the Minnesota Vikings, Adam Thielen was not that player for the first five years of his NFL career, but in 2018, he exhibited a slot prowess akin to that of the recent greats.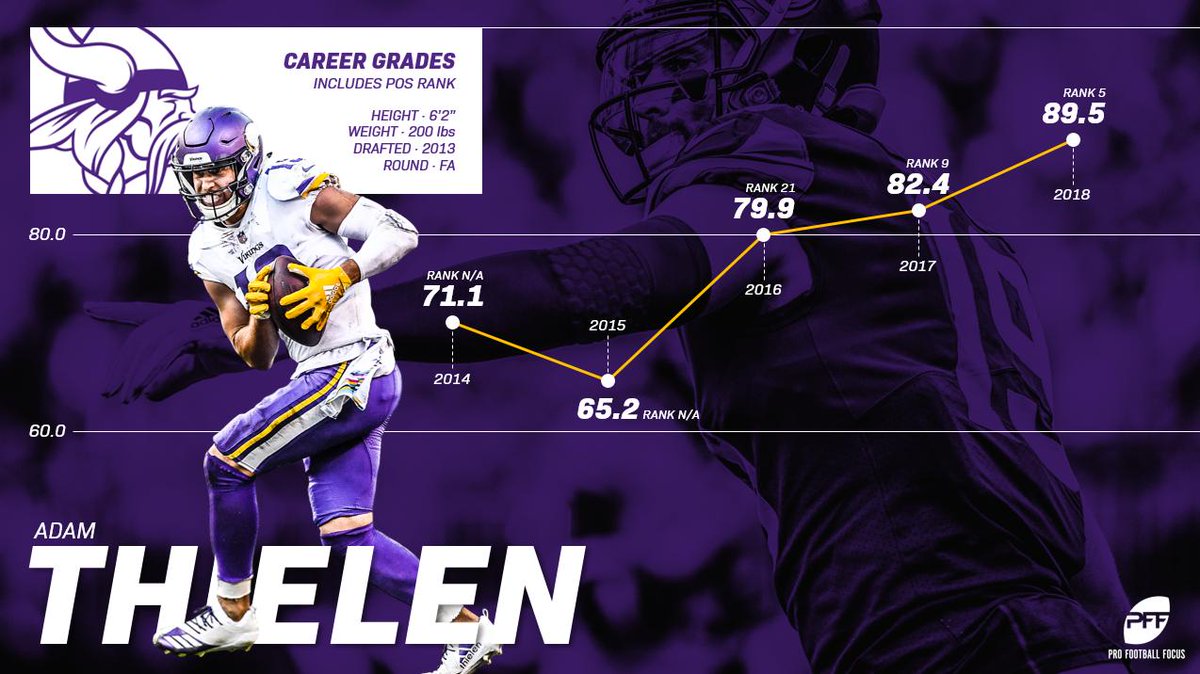 In his first three seasons, Thielen was hardly an option, let alone a top slot threat. He saw just 29 targets (six of which were from the slot) and often went without a look in the games he saw action in. When his opportunity to break out came in 2016 though, Thielen pounced.
But he did so mainly from the outside, where he took more than 70% of his snaps. That year, Thielen was a mere 33 yards from breaking the 1,000-yard mark, and he fought his way to a 121.9 passer rating when targeted that ranked seventh among qualifying receivers. While that pushed him toward the lucrative role of the Vikings' top receiving weapon, the potential for more clearly existed. So, following the league-wide trend of lining up top receiving options in the slot,…