Jan 21, 2018; Foxborough, MA, USA; New England Patriots quarterback Tom Brady (12) gives a thumbs-up before the game against the Jacksonville Jaguars in the AFC Championship Game at Gillette Stadium. Mandatory Credit: Greg M. Cooper-USA TODAY Sports
The NFL is increasingly becoming a young man's game. Back in 2007, there were 201 players who started eight or more games that were at least 30 years old. This past season, that number was only 133. With that in mind, we thought it appropriate to tip our hats to those guys bucking the trend and still producing well into to 30s.
Below is PFF's All-Veteran Team, composed of players that entered the league prior to the 2010 season.
While all other positions seem to be trending younger, we seem to be in a golden era of the old quarterback. No one personifies that more than the 41-year-old Patriots quarterback. Not only is Brady the highest graded quarterback over the past two seasons, but his 96.6 overall grade is also higher than any other player in the NFL over that span.
The youngest player on this list, McCoy only just turned 30 this offseason even though he was taken in the 2009 draft. The former Pittsburgh Panther is still going strong though as his last two seasons are among the five highest rushing grades of his nine-year career. Frank Gore, Marshawn Lynch and Jonathan Stewart are the only other running backs to get at least 200 carries last season that would qualify for this list.
Fitzgerald led all qualifiers last season in receptions (109), yards (1,156), explosive plays (33) and contested catches (18). With how nuanced he is as a route runner and strong he is at the catch point, the 35-year-old could produce well into his late 30s. The Cardinals third overall selection way back in 2004 is still going strong.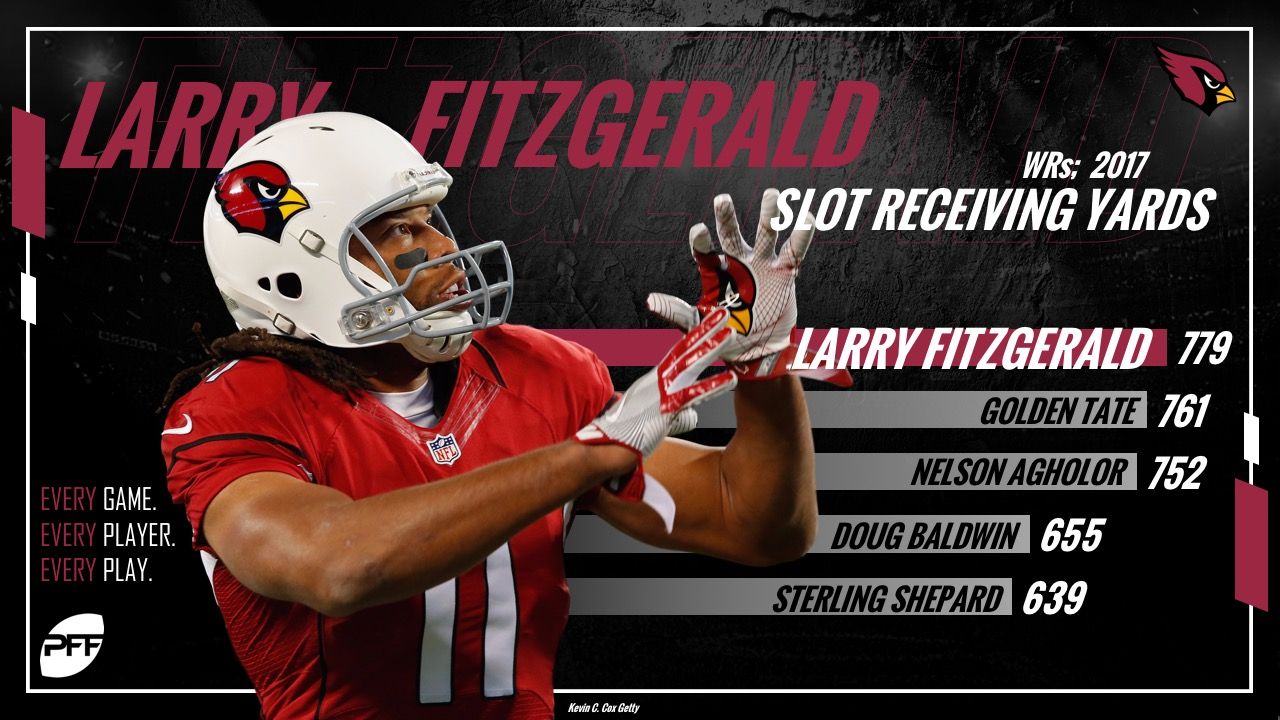 There were a handful of options here, but Garcon's consistency earns him the nod over the likes of Michael Crabtree, Danny Amendola, DeSean Jackson and Jordy Nelson. Garcon has had only one season graded below 70.0 since 2011 and was still effective last season when on the field averaging 1.79 yards per route.
As far as old tight ends go, it's fairly slim pickings around the NFL at the moment. Only three qualifiers cracked 600 yards last season (Walker, Vernon Davis and Jared Cook), but Walker is head and shoulders above the others in terms of production. He had 992 receiving yards on the year with 22 catches of 20 or more yards. Not bad for a now 34-year-old.
Staley was a first-round pick for the 49ers back in 2007 and has been the definition of a plug-and-play 10-year starter. He was solid in pass protection early in his career but didn't quite develop into an elite left tackle until Jim Harbaugh got his hands on him. In 2012, Staley led all tackles with a 92.4 overall grade. Since then, he's maintained an incredibly high level of play and once again led all tackles with an 89.6 grade this past year.
Sitton has been the gold standard in pass protection at both right and left guard since he came into the league as a college tackle from UCF back with Packers in 2008. He led all guards in pass-blocking efficiency in 2013, 2014 and 2015 before falling to second in 2016 and 13th this past…